Bright blue eyed Ragdoll - Boksburg
Saturday, 13 September 2014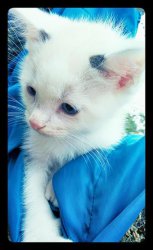 Contacts

Alan
Item description
She has been mated with stunning , very big black and white Maine Coon X BSH and dad is available to viewing by appointment.
Our boy will make very large cat and he has the most bright blue eyes I ever seen ! Stunning colour - full white with blue tips on the ears and blue tail, with cream shadows on the face. He has wonderful personality - very playful, cuddly and purring 24 hrs non stop !
On the pictures you can see his mum and his uncle.
If you would like to know more about my my boy please contact me, as I would like to know about you too.