Long grain IR 64 Parboiled rice Sellers. - Boksburg
Monday, 21 November 2016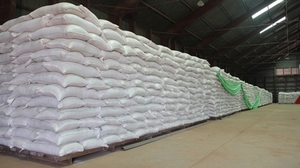 Contacts

Brian

0735571349
Item description
Dear clients.

We are one of the highest suppliers of Rice and we have all types of rice available for sales. We have the following type's sales

Long Grain Brown Rice
Medium Grain Brown Rice
Short Grain Brown Rice
Sweet Brown Rice
Basmati Rice
Himalayan Red Rice
Colusari Red Rice
Purple Thai Rice
Chinese Black Rice
Jasmine Rice
Japonica rice (Calrose Medium Grain White Rice)
Sticky Rice
Forbidden Rice
Thai Jasmine Rice
Arborio Rice
Parboiled Rice
AROMATIC RICE
BALDO RICE
BAMBOO RICE
BOMBA RICE
BOTAN RICE
REGULAR MILLED WHITE RICE:
Instant Rice

JASMINE RICE SPECIFICATION.

Description Thai Rice Standard
Purity 92% min
Moisture 14% max
Whole Kernels 60% min
Broken (5.2 mm.) 4.5%-100% max
Red kernels 0%
Yellow kernels 0.2% max
Chalky kernels 6% max
Damaged kernels 0.25% max
White Glutinous Rice 1.5% max
Undeveloped, Immature kernels, Other seeds and Foreign Matter 0.2% max
Paddy (grain per 1 kg.) 7 grains
Milling Degree Extra Well Milled


SPECIFICATIONS LONG GRAIN BROWN RICE
Broken 5% max
Moisture 14% max
Foreign matter 0.1% max
Chalky kernel 6% max
Damaged kernel 0.5% max
Red & red streak kernel 1.0% max

FOR MORE INFORMATION, GET BACK TO US WITH YOUR COMPLETE CONTACT DETAILS IN OTHER TO EASE COMMUNICATION LIKE YOUR EMAIL, CONTACT NUMBER AND SKYPE ID OR OTHER SOCIAL MEDIA CONTACT. CONTACT US 0710969815 For more info.