Bmw 3 2009 - Boksburg
Friday, 26 July 2013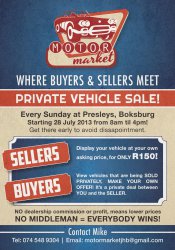 Contacts

Mike

074 548 9304
Item description
Motor Market is holding weekly Private Vehicle Sales starting from Sunday 28th JULY. Come and display your vehicle on our display area for only R150. We are located on the c/o North Rand Road and Gibb Road in Presleys Boksburgs parking area.

The seller determines his/her own asking price. We do not charge any commission or make any profit out of the sale. Buyers can walk the display area and inspect the cars, and make offers as they please.

No middle man and no commission = everybody wins!
If you are buying or selling a vehicle you cannot afford to miss Motor Market! Please contact us for more information or to reserve a display bay.